Segede has been evolving for more than 60 years with the same obsession: excellence, innovation and the sustainability of know-how passed down from generation to generation.
Originally goldsmith jeweler, Segede has been able, for more than 65 years, to develop and enrich its metal processing skills by using other materials such as wood, plastic, glass or crystal.
Established in France and Asia, Segede owns 2 integrated production units. French production and Head office are based in Chelles, in the Paris area. For more than 15 years, Segede has also been established in China, in the Dongguan district. Thus, this dual location offers our customers greater flexibility and competitiveness.
From the research department to production through quality control, our 160 employees spread over our two production plants ensure the industrialization and production of our customers' projects.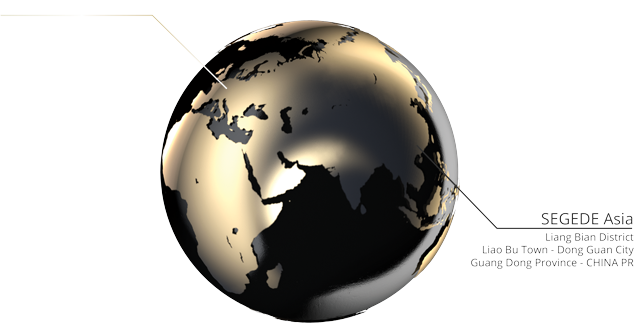 BACARDI . BOUCHERON . CAMUS . CARTIER . GUERLAIN . HERMES . JEAN PAUL GAULTIER . CHRISTOFLE . YVES SAINT LAURENT . JOHNNIE WALKER . LANCÔME . L'OREAL . LVMH . MARTELL . DIAGEO . REMY MARTIN . SHISEIDO . THIERRY MUGLER . PERNOD RICARD . CHANEL . VIVIENNE WESTWOOD . MAISON FRANCIS KURKDJIAN . LOLITA LEMPICKA . LANCASTER . COURVOISIER . CHIVAS . STOLICHANAYA . LAMPE BERGER