Our collection of standard zamak caps for spirits has been designed to offer the greatest number of possibilities and fit decanter standards. Whether you are looking for a single stopper head, a cap with natural, agglomerated, synthetic cork or a screwing cap, our collection will meet your requirements. All of our standards can be customized by engraving / screen printing a logo and several finishing process: electroplating, metallization, anodization, ecoating, varnishing, lacquering…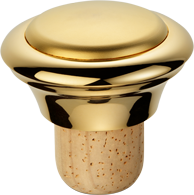 PRINCE
As its name suggests, Prince cap dazzles with its majestic and impressing design at first glance. Its weight makes it one of the most prestigious models in our spirits collection. Made in two pieces, it offers a wide combination of possible finishing and allows an original customization.
LEO
LEO is certainly one of the standard cap which offers the widest range of possibilities. Available in screw or cork version, it fits many standard glass bottles. In addition, we can exploit its two heights of skirt for changing the packaging design.

URBAIN
Combining roundness and angularity, the classic URBAIN cap is suitable for both spirits and non-alcoholic liquids such as juices and high-end olive oil for example. In its cork version, URBAIN becomes a styling stopper to hide a carnette. Also available in GPI 400/28 screw neck version.
STAN
Simplicity is the keyword of the STAN model. This zamak disc is perfectly suited to the standard neck 29 and 33 diameter decanters. This simplicity of design is also found in its cost which makes it an economical model retaining all the luxurious allure offered by zamak. It is easily customizable by adding an engraving logo on the top, silkscreen printing, laser etching, etc.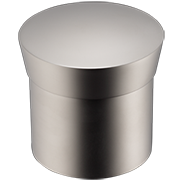 OSCAR
OSCAR is undeniably the great success of our collection of spirits standards. This covered cap allows to dress the neck of a decanter without using any other accessory. Its timeless and clean lines adapt to all styles from the most traditional to the most modern. Ideally suited for a GPI 400/33 screwing neck, it can also be adapted to a natural agglomerated or technical cork to close bottles and decanters with flat rings. This model is also available in ABS version. New: We have developed an exclusive solution fitted this model to provide evidence sealing. For more information, please feel free to contact us.